It's back to school for many of South Carolina's students and teachers and Palmetto Trading has a new back to school design just for school. The School Apple Palmetto Moon is our newest designer palmetto moon and is available on a wide selection of t-shirts, apparel, mugs, and other gift products.
We know that South Carolina teachers will love the Carolina Teacher Apple Palmetto Moon; also available in a two-sided Carolina Teacher Palmetto Moon Deluxe version. You can see samples of the available choices below. Just click on your favorite to see the complete product lineup and get yours today!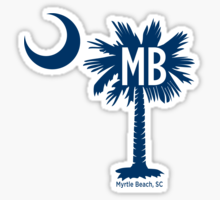 New at Palmetto Trading, South Carolina Cites Palmetto Moon stickers! We have combined the popular palmetto moon logo with the euro style oval stickers to create this South Carolina exclusive. Available today for 34 South Carolina cities, and if your favorite city isn't represented, just contact us and we will add it to our inventory.
Stick one on your car, laptop, or locker; any flat, smooth surface will work great with these tough, vinyl die-cut stickers. Just like our other die-cut stickers, they are only $6 each, and only $3 each if you buy 6 or more (from any of our designs, including the palmetto moon and Carolina Girl die-cut stickers). Check out all our South Carolina Palmetto Moon and Carolina Girl die-cut stickers today!
Celebrate Independence Day with some star spangled savings at Palmetto Trading. Starting today you can get up to $30 off your order of Carolina Girl apparel, palmetto moon t-shirts, and South Carolina clothing, apparel or gifts.
Use the code StarSavings to receive $5 off any order of apparel or gift items. With your order of $50 or more you can get $10 off using the code BrightSavings. Finally, you can save up to 30% on your $100 order with a $30 discount using the code SpangledSavings at checkout.
Hurry because this offer ends soon after the July 4th fireworks on July 5, 2011!
The savings only applies to products shipped by printfection.com. See the Palmetto Trading coupon page for complete details.