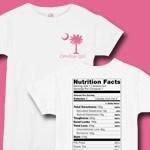 We are proud to announce the launch of our Carolina Girl Nutrition Facts design now available on t-shirts, sweatshirts and other clothing, apparel and gifts. This unique design includes the familiar Nutrition Facts label you find on food products, but with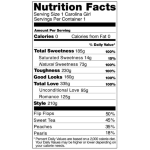 a focus on all the great things about Carolina Girls.
The design is available printed on the front of shirts or as a deluxe version with a Palmetto and Carolina Girl design on the front and the Carolina Girl Nutrition Facts printed on the back. This is available on a wide selection of shirt styles and colors, including kids, women's and girl's styles.
You can head straight to our Designer Carolina Girl T-Shirts and Gifts section to gain access to both design options, or go directly to the Carolina Girl Nutrition Facts or Pink Carolina Girl Nutrition Facts sections.
If you enjoyed this article, please consider sharing it!