Gobble Gobble Turkey Palmetto Moon Shirts and Gifts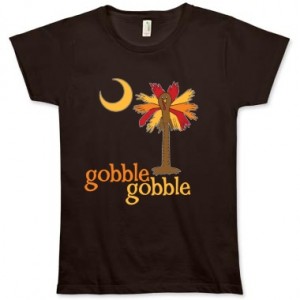 Just in time for Thanksgiving, a new styles of turkey palmetto t-shirts, apparel and gift products have arrived at Palmetto Trading! All feature a turkey palmetto tree and moon. Choose your favorite to wear to your Thanksgiving feast this year.
Our personal favorite is the Gobble Gobble Turkey Palmetto Moon. View our complete Thanksgiving Turkey Palmetto Moon designs and select your favorite today!
(Shh! don't tell anyone that there is a special deal on a couple of these designs for our facebook page followers.)
If you enjoyed this article, please consider sharing it!