Heart Palmetto Moon Shirts and Gifts for Valentine's Day
Just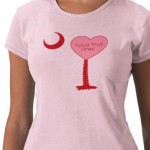 in time for Valentine's Day, Heart Palmetto Moon shirts and gifts. Our collection includes the Heart Palmetto Moon; the popular South Carolina Palmetto Moon logo with the palmetto tree top replaced by a heart. Visit our Valentine's Day Palmetto Moon page to see all the variations. You can even personalize your own Candy Heart Palmetto Moon shirt with any phrase you want.
Have a Happy Valentine's Y'all!
If you enjoyed this article, please consider sharing it!