Join the Fight Breast Cancer Pink Ribbon Palmetto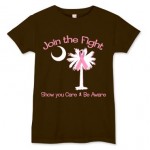 Another great way to support the fight against breast cancer with this Join the Fight Pink Ribbon Palmetto Moon on t-shirts, apparel, mugs, cups, and more! Also available in the Join the Fight Pink Ribbon Palmetto Delxue version where the design is printed on the back of the shirt and a small pink ribbon palmetto moon on the front.
All proceeds on sales of Pink Ribbon Palmetto Moon, including these, are donated to help find a cure for breast cancer. So join the fight, show you care, and be aware in the Palmetto State.
If you enjoyed this article, please consider sharing it!